Jacuzzi J-575 Hot Tub
JACUZZI® J-575™
Luxury Lounge Seating Centerpiece
---
Seats:

5-6 Adults


Dimensions:

91" x 91" x 42"


PowerPro Jets:

53


Spa:

445 US gal.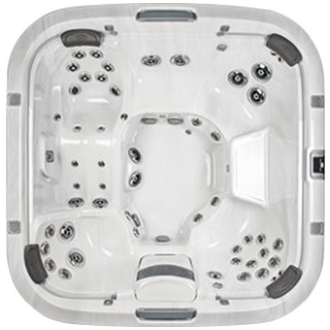 Wrapped in the durable Curvalux™ cabinetry that mirrors high-end patio furniture, the J-575™ hot tub is a sight to behold. The ProTouch™ control, an industry first, features a full-color waterproof glass touchscreen and rotates for easy access, both inside and outside the tub. The high-performance lounge seat model is accentuated with two cascading waterfalls and ProEdge interior illumination for ambiance and beauty.
Showcasing the most impressive exterior and lighting elements, featuring the greatest massage variety Jacuzzi® offers, and rivaling hot tub technologies with a glass touch screen control, you'll never look at hot tubs the same way again.
---
SELECT A SHELL COLOR

(Hover over swatches for name. Press & hold if using smartphone.)





SELECT A CABINET COLOR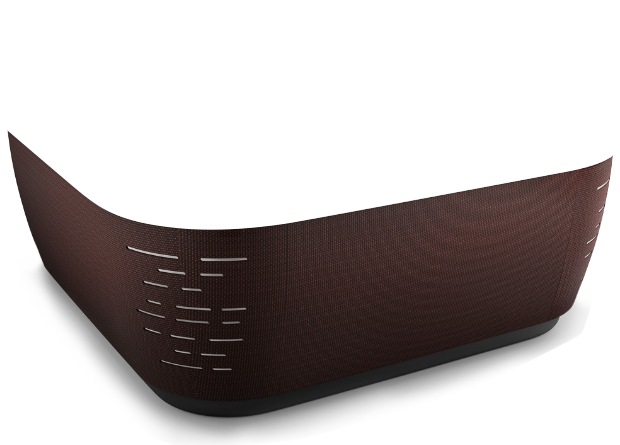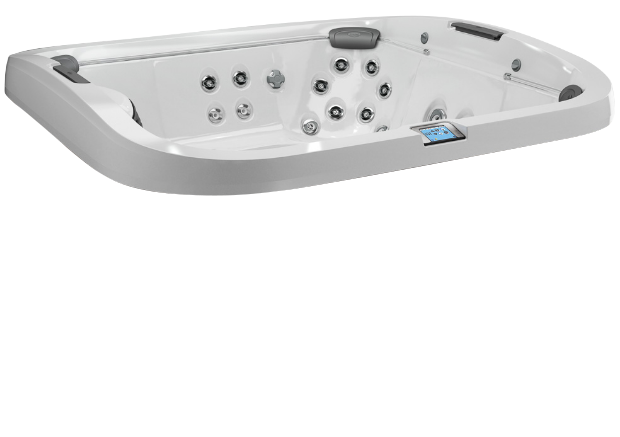 ---
CLEARRAY® Plus 5-stage Filtration
CLEARRAY® uses the same technology as health care environments like water filtration plants and hospitals without producing or adding any by-products to the water as a result. The 5-stage water filtration system achieves the cleanest water in the shortest amount of time by using five stages: ProClarity® Filter, ProClear® Filter, ProCatch™ Filter Bag, surface skimmer and a pleated filter.
ProTouch™ Glass Control and ProLink™ App
A full-color, water-proof glass touch screen control rotates for easy access both inside and outside of the tub. It also connects with the ProLink™ app to help you stay informed of the status of your hot tub, schedule maintenance reminders and adjust temperature and jet functions.
J-500™ Lounge
An RX lounge seat, praised as one of the best-feeling seats in any collection, features RX Jets that knead essential muscles and nerves to relax the back. In addition, exclusive jets for achy hips, strained wrists and tense legs and feet give you a full-body hydromassage.
53 Jacuzzi® Jets
2 POWERPRO® FX DIRECTIONAL JETS
The new PowerPro FX Directional Jet is exclusive to the J-500™ collection and is designed to relieve tension and improve circulation in the hips.
6 POWERPRO® NX2 JETS
Advanced NX2 Jets relieve tension in the hard-to-reach neck area with an extremely focused stream of water. Change the direction of the nozzle and massage intensity by turning the jet face.
8 POWERPRO® PX JETS
The PX Jet provides a gentle pulsating massage which is perfect for small muscle groups in the wrists and hands. With the introduction of the PX Jet, all the major muscle groups are now specifically targeted.
6 POWERPRO® FX JETS
FX Jets are optimal for stimulating small muscle groups. Fully adjustable for varying pressures, these exclusive jets rejuvenate the body and can help overworked muscles and joints.
6 POWERPRO® FX LARGE
ROTATIONAL JETS
The FX Large Rotational Jet delivers an intense hydrotherapy massage without using moving parts. This type of jet is considered as the larger and more powerful version of the original FX jet.
14 POWERPRO® FX ROTATIONAL JETS
The PowerPro® FX Rotational Jet creates a kneading effect to target smaller muscle groups and stimulate surrounding tissue.
6 POWERPRO® RX JETS
PowerPro RX jets feature a spinning action that is fully adjustable. Customize the pressure or turn off the jet action entirely by simply turning the dial on the face.
5 POWERPRO® MX2 JETS
MX2 Jets deliver maximum volume at a higher air-to-water ratio. Strategically located, these jets deliver a bold massage and are especially effective for lower-back muscles.
---
| | |
| --- | --- |
| Seating Capacity | 5-6 |
| Dimensions | 91 in X 91 in X 37.5 - 42 in / 231 cm x 231 cm x 91.44 cm |
| Average Spa Volume | 445 gal / 1,685 liters |
| Dry Weight | 898 lbs (407 kg) |
| Total Filled Weight | 5,446 lbs (2,470 kg) |
| Pump 1 | North America 1 speed, 2.5 cont hp (5.1 bhp*) |
| Pump 2 | North America 1 speed, 2.5 cont hp (5.1 bhp*) |
| Circulation Pump | Yes |
| Diverter Valves | 0 |
| Water Purification System | ClearRAY® |
| Filtration | ProStream™ Circulation Pump, ProClarity™ Filtration System w/ Grill, Skimming Weir and ProCatch Bag + ProClear™ Pleated Filter |
| Filters | 1 – ProClarity™ Depth Load Filter, 1 – ProClarity™ 40 Sq Ft Filter, 1 – ProClear™ 60 Sq Ft Filter |
| Electrical North America | 240VAC 60Hz 30A/50A/60A |
| Cabinetry | Roasted Chestnut, Silverwood |
| Shell Colors | Porcelain, Sandstone, Platinum, Silver Pearl, Sahara, Desert Sand, Opal, Caribbean Surf, Midnight, Monaco |
---
10 Year Shell Warranty
Jacuzzi spas are warranted against water loss due to defects in the spa shell for ten years.
7 Year Shell Warranty
Jacuzzi spas are warranted against blistering, cracking, or delaminating of the interior surface of the spa shell for seven years.
5 Year Equipment Warranty
Jacuzzi spas are warranted against water loss due to defects in the spa shell for five years from the original date of purchase.
5 Year Plumbing Warranty
Jacuzzi spas' plumbing components are warranted against leaks due to defects in workmanship or materials for five years.
5 Year Cabinetry Warranty
Jacuzzi spas' ProEndure™ synthetic cabinets are warranted against defects in workmanship or materials for five years.

---