Jacuzzi J-415 Hot Tub
JACUZZI® J-415™
Designer Empty Nester
Patio Spa
---
Seats:

2-3 Adults


Dimensions:

76" x 66" x 32"


PowerPro Jets:

21


Spa:

585 US gal.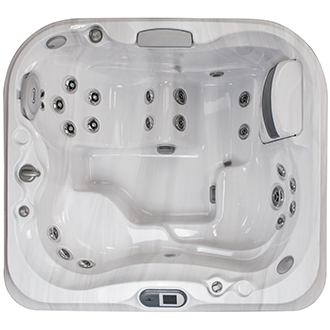 With a low profile for easy access, premium LED lighting throughout and a single backlit waterfall, this model is both elegant and easy to use. The J-415™ hot tub possesses premium PowerPro® jets to deliver an optimal hydromassage experience.
The PowerPro® RX therapy seat, a customer favorite, delivers the highest performance hydromassage the Jacuzzi® brand offers. The spinning action of these exclusive RX jets kneads knee muscles and nerves of the back to provide a Swedish-style massage and release tension in hard-to-reach places. Experience the elegant styling and superior hydromassage of the J-415™ hot tub for yourself.
---
SELECT A SHELL COLOR

(Hover over swatches for name. Press & hold if using smartphone.)





SELECT A CABINET COLOR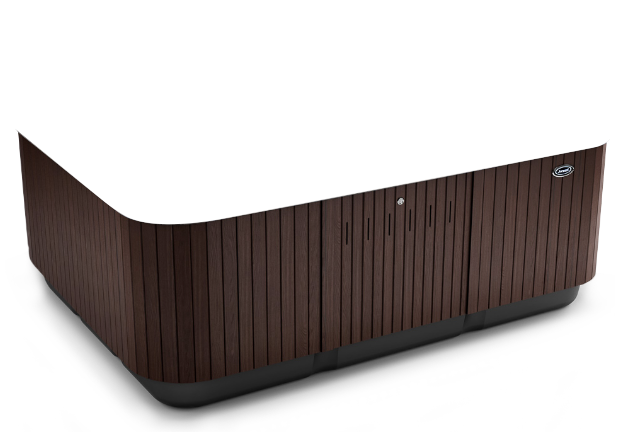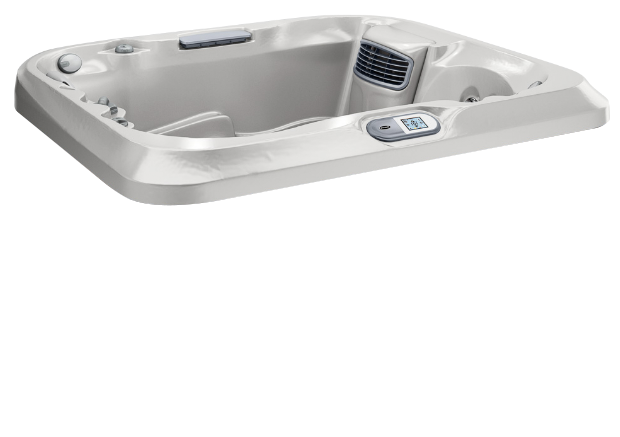 ---
CLEARRAY® Plus 5-stage Filtration
CLEARRAY® uses the same technology as health care environments like water filtration plants and hospitals without producing or adding any by-products to the water as a result. The 5-stage water filtration system achieves the cleanest water in the shortest amount of time by using five stages: ProClarity® Filter, ProClear® Filter, ProCatch™ Filter Bag, surface skimmer and a pleated filter.
ProTouch™ Control and
ProLink™ App
The full-color ProTouch™ Control paired with the ProLink™ app helps you stay informed of the status of your hot tub, schedule maintenance reminders and adjust temperature and jet functions.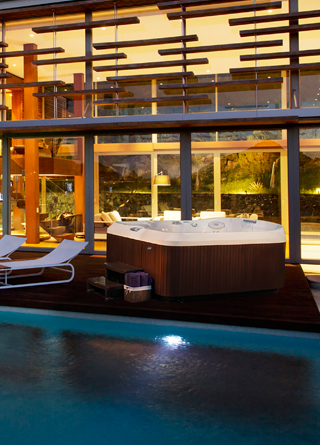 J-400™ Open Seating
The J-400™ collection's open seating design offers a variety of seats and massage options. The distinct PowerPro RX Jet, Jacuzzi's best jet yet, kneads essential muscles and nerves to relax the back. In addition, the open footwell allows you to move effortlessly from seat to seat.
21 Jacuzzi® Jets
2 POWERPRO® NX2 JETS
Advanced NX2 Jets relieve tension in the hard-to-reach neck area with an extremely focused stream of water. Change the direction of the nozzle and massage intensity by turning the jet face.
9 POWERPRO® FX JETS
FX Jets are optimal for stimulating small muscle groups. Fully adjustable for varying pressures, these exclusive jets rejuvenate the body and can help overworked muscles and joints.
1 POWERPRO® FX LARGE
ROTATIONAL JET
The FX Large Rotational Jet delivers an intense hydrotherapy massage without using moving parts. This type of jet is considered as the larger and more powerful version of the original FX jet.
4 POWERPRO® FX ROTATIONAL JETS
The PowerPro® FX Rotational Jet creates a kneading effect to target smaller muscle groups and stimulate surrounding tissue.
5 POWERPRO® RX JETS
PowerPro RX jets feature a spinning action that is fully adjustable. Customize the pressure or turn off the jet action entirely by simply turning the dial on the face.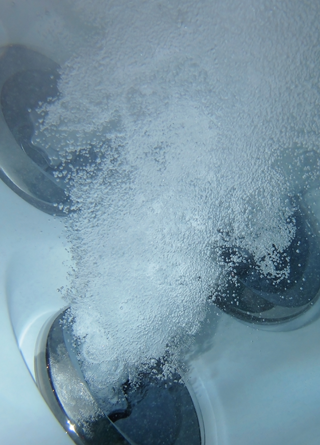 ---
| | |
| --- | --- |
| Seating Capacity | 2-3 Adults |
| Dimensions | 76 in x 66 in x 32 in / 193 cm x 168 cm x 81 cm |
| Average Spa Volume | 230 US gal. / 871 Liters |
| Dry Weight | 585 lbs. / 265 kg |
| Total Filled Weight | 3,004 lbs. / 1,362 kg |
| Pump 1 | North America 1 speed, 2.5 continuous hp (5.1 brake hp*) |
| Circulation Pump | Yes |
| Diverter Valves | 1 |
| Water Purification System | ClearRAY® |
| Filtration | ProClarity™ Filtration System with Grill, Skimming Weir + ProCatch Bag |
| Filters | 1 - ProClarity depth load filter (circ) 1 - ProClarity 40 sq ft. cartridge filter (circ) 1 - ProClear 15" 60 sq ft filter (hydro) |
| Electrical North America | 240V 60Hz 40A or 50A |
| Cabinetry | Brazilian Teak, Roasted Chestnut, Silverwood |
| Shell Colors | Platinum, Silver Pearl, Sahara, Desert Sand, Opal, Monaco |
---
10 Year Shell Warranty
Jacuzzi spas are warranted against water loss due to defects in the spa shell for ten years.
7 Year Shell Warranty
Jacuzzi spas are warranted against blistering, cracking, or delaminating of the interior surface of the spa shell for seven years.
5 Year Equipment Warranty
Jacuzzi spas are warranted against water loss due to defects in the spa shell for five years from the original date of purchase.
5 Year Plumbing Warranty
Jacuzzi spas' plumbing components are warranted against leaks due to defects in workmanship or materials for five years.
5 Year Cabinetry Warranty
Jacuzzi spas' ProEndure™ synthetic cabinets are warranted against defects in workmanship or materials for five years.

---