Cozzia Massage Chair CZ-628
Cozzia Massage Chair CZ-628
Cozzia products can help you become the best "you" possible. Massage promotes faster recovery after a workout or sports-related injury by reducing inflammation. Massage decreases the stress hormone Cortisol by up to 50%; Massage = less stress. Massage also helps you to relax your mind and body by releasing endorphins, reducing anxiety, and slowing your heart rate.
Cozzia's 3D Massage Technology has the ability to travel up/down, left/right, and in and out of your back. 3D Massage provides the option of a deeper and more customizable massage.
---
Click Swatches to Preview Chair Color

---
---
Powerful Sound
Play music through your massage chair. We have built-in speakers into the headrest of the massage chair to provide you with the ability to listen to your favorite tunes while relaxing in your chair.
Activate your senses.
Cozzia has built LED lighting into this massage chair to provide you with the benefits of chromotherapy. Chromotherapy is the practice of using colored lights to stimulate the senses and heal the body.
Give your feet a break.
Did you know that the reflex zones located in the soles of your feet can affect your entire body? We have included rollers in the footrest of this chair to massage the undersides of your feet, and to benefit your body as a whole.
Controller
LCD Hand Held Remote Control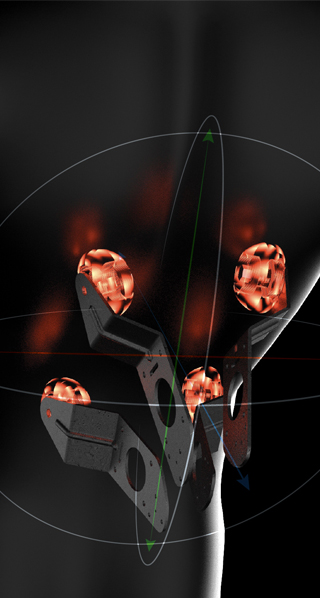 Massage
3D Massage
3 inch 3D Node Extension
6 Unique Massage Techniques
8 Auto Programs
Sole Roller Massage
AIR MASSAGE
Shoulder Massage
Arm Massage
Seat and Thigh Massage
Foot and Calf Massage
64 Airbags
3 Air intensity Levels
SEAT ADJUSTMENT
One Touch Zero Gravity Position
Adjust backrest and footrest at any desirable position
---
SPECS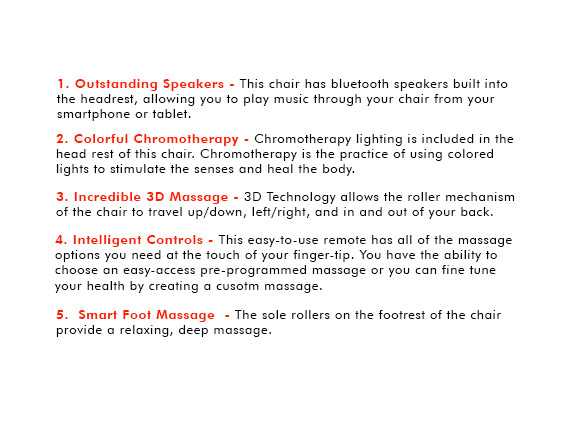 | | |
| --- | --- |
| Massage Dimensions | 3D |
| Auto Programs | 8 |
| Total Airbags | 64 |
| Power Consumption | 300W |
| Chromotherapy Lighting | Yes |
| MP3 Input | Yes |
| Max Massage Time | 30 Min |
| Dimensions | 53.5 x 33.4x 51.2 |
| Weight Capacity | 300 LBS |
---
Limited Warranty
Cozzia products will be either repaired by the consumer or by an in-home technician. Cozzia will not issue Return Material Authorizations (RMAs) for buyer's remorse.
Service & Technical Support
Consumers are required to provide the unit serial number and dated proof of purchase (sales receipt) when they contact the Cozzia service department regarding a repair.
Warrant Coverage Period
Warranty coverage starts at the time that the consumer purchases their chair. Proof of purchase is required for all warranty repairs.
Product Repairs
Cozzia customer service department will diagnose and schedule an authorized service provider to repair the chair in the consumer's residence. Parts – All parts deemed necessary for repairs.
Consumer Warranty Limitations and Exclusions
Cozzia's sole liability and the purchaser's exclusive remedy shall be for the repair, or at Cozzia's option, for the replacement of the defective part.
---
UpdateCancel